Maintenance of Equipment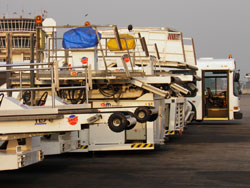 Sky Handling Partner Sierra Leone has over 25 Ground Service equipment vehicles:

Loaders, tow tractors, baggage conveyor belts, shuttle buses, aircraft steps, lifting platforms (7t. / 14t.), handling tractors, (GPU) Ground Power Unit, (ASU) Air Starter Unit, pallet dollies, fork lift trucks (3t. / 10t.).

The level of maintenance provided by our qualified staff in our own, for this purpose built, facilities means that all our equipment is always ready to use.